Dec 2022
Winter meeting 7-8 Dec
Our winter meeting was a huge success and a delight to attend. It was the first in-person meeting in years and provided attendees with many opportunities to network, share their work, and to explore our host, Twycross Zoo. You can catch up on what went on by exploring the hashtag "PSGBWinter2022" on any of our social media profiles.

Increased grants and funding
In response to feedback from members, and with the Society's built up reserves, we are increasing the maximum amounts available in our grants and introducing two funding rounds: 1st March and1st November.

Nov 2022
First awardees of Postgraduate Primatology Recognition Award
We are delighted to announce 6 awardees of our new postgraduate award! The names and projects of the students can be viewed here. Well done all!
Not long before our Winter meeting!
With just under a month to go, our Winter meeting, hosted by Twycross zoo, is fast approaching. Have you seen our 'At a glance' programme? It can be found on the meetings page.
Oct 2022
Dr Goodall at the Royal Geographical Society
The Jane Goodall Institute UK will be hosting 'An Evening of Hope with Dr Jane Goodall DBE' on November 30 2022 at the Royal Geographical Society in London, UK. Ticketsare available now.
Winter meeting abstract call closes
Abstract submissions have closed for our winter meeting - thank you to all who submitted! In the mean time, make sure you grab your ticket to our winter meeting before November 7th to nab them at the reduced early bird rate.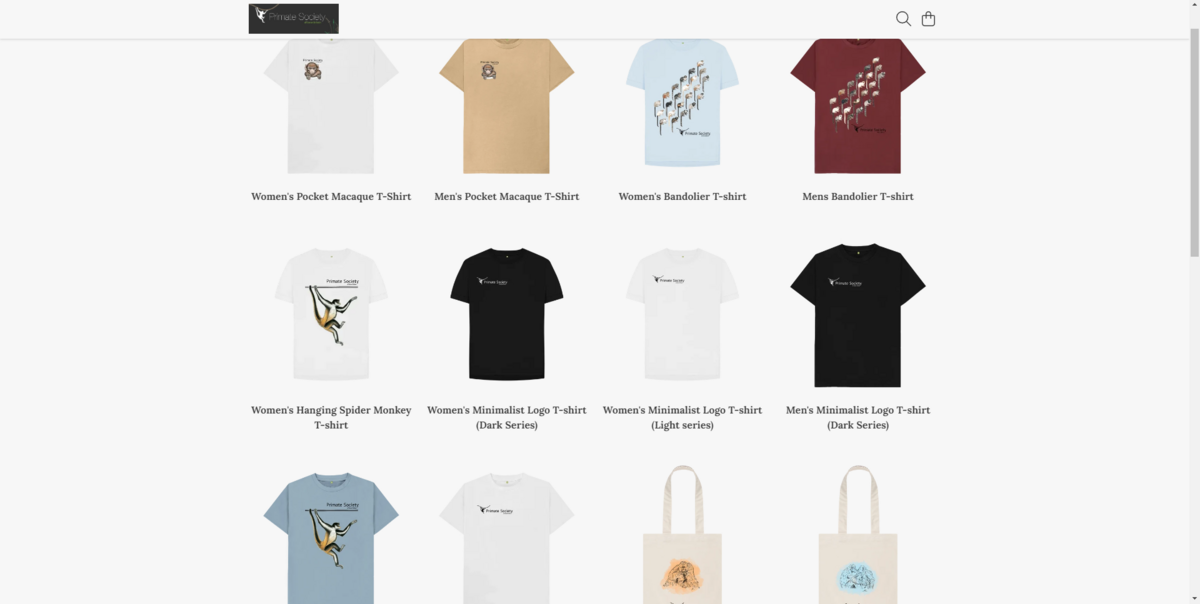 Sept 2022
Online shop is launched
Our exciting new online shop has launched, organised and lead by our wonderful Marketing Officer. You can check out our shop and order some PSGB merch here.
Aug 2022
Winter meeting - tickets now on sale!
We are delighted to be holding an in-person meeting again this winter. Thanks to hosts Twycross Zoo we will be holding a two day meeting on the 7th & 8th December 2022. Tickets are now on sale with only 90 available! Head to the Meetingspage for more information.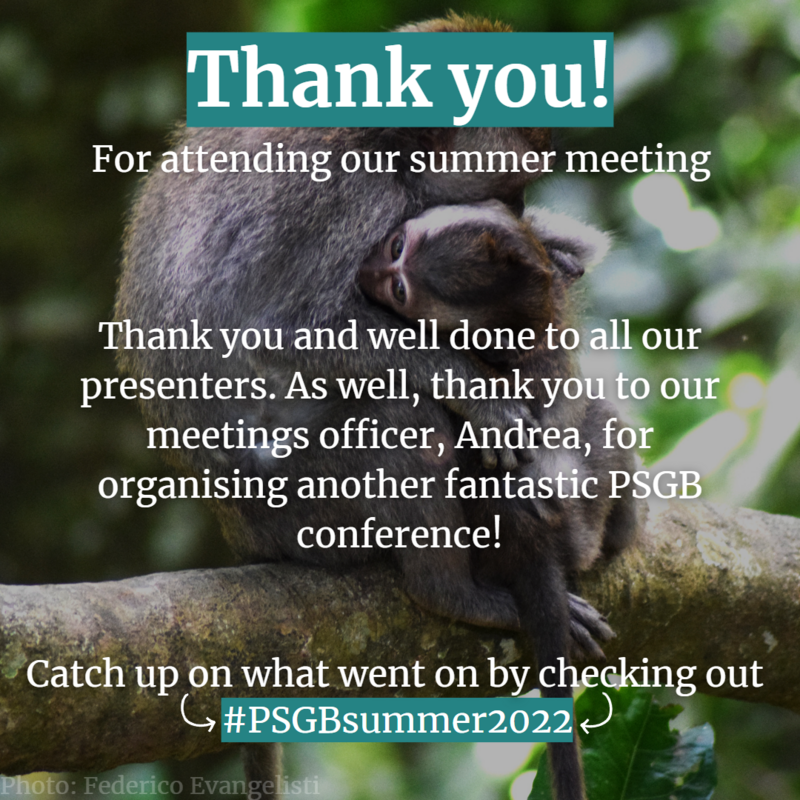 July 2022
Online summer meeting
Thank you to all the attendees of our online summer meeting - and our first meeting of 2022! We hope all had a wonderful time. We look forward to seeing you all, in person, at our winter meeting hosted by Twycross Zoo!
June 2022
First publication of PEN - Primate Eye Newsletter
All members should now be able to read our first ever publication of PEN - the new newsletter that seeks to highlight and better engage with the student and early career sections of our membership. PEN seeks to shine recognition for member achievements, as well as present recent progress and advancements within the field, along with job opportunities.
Research grants awardees
Congratulations to the 4 awardees for our conservation grants, who's projects will receive PSGB funding, supported by Trentham Monkey Forest. The awardees and their projects can be viewed here.
May 2022
Total raised for our 2021 conservation cause announced
We are delighted to announce the total raised for our 2021 conservation cause - Proyecto titi. An outstanding total of £3,607 has been raised throughout the last year and will go toward the work of Proyecto titi who conserve cotton top tamarins. We couldn't have raised such an amount without our fantastic members. Thank you!
Call for Contributions!
Primate Eye Newsletter (PEN) will be published for the first time in June 2022 and will celebrate our membership and better represent our student and early career members. We would therefore like to feature any new developments you are willing to share such as, new research, new team members to research groups, new books/publications, new charity campaigns, new courses or job opportunities, seminars/meetings etc. Please provide brief details of the opportunity/event/news, location and who to contact and/or a link to further information to [email protected]
Date announced for our summer meeting
July 1st has been selected as the date for our 2022 summer meeting. This meeting will be online, with the option for locally gathered in-person 'hublets', and will be early career researcher/student focused, with a plenary lecture and workshop on a key area of career development. More details to come.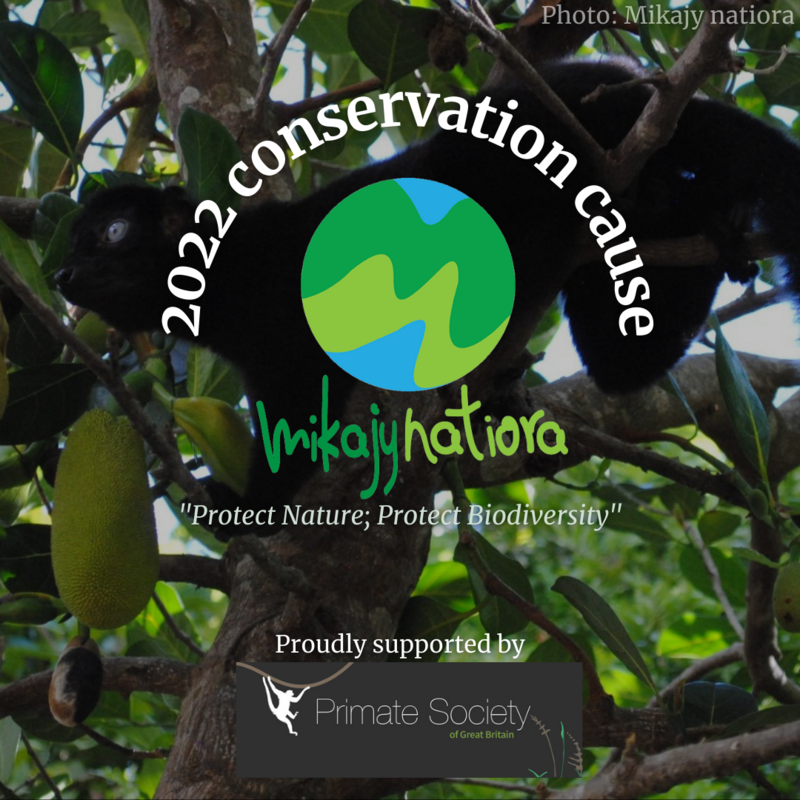 April 2022
Conservation grants awardees
Congratulations to the 3 awardees for our conservation grants, who's projects will receive PSGB funding, supported by the Born Free Foundation and Trentham Monkey Forest. The awardees and their projects can be viewed here.
2022 Conservation Cause
This month we announced our 2022 conservation cause - Mikajy Natiora, a Madagascar-based conservation organisation that provides in-situ conservation through Research, Education and Community Development. We look forward to supporting their dedicated work!
January 2022
PSGB welcomes new council members
The council welcomed several new members as well as said a big thank you to leaving members for their hard work. You can 'Meet the council' here.