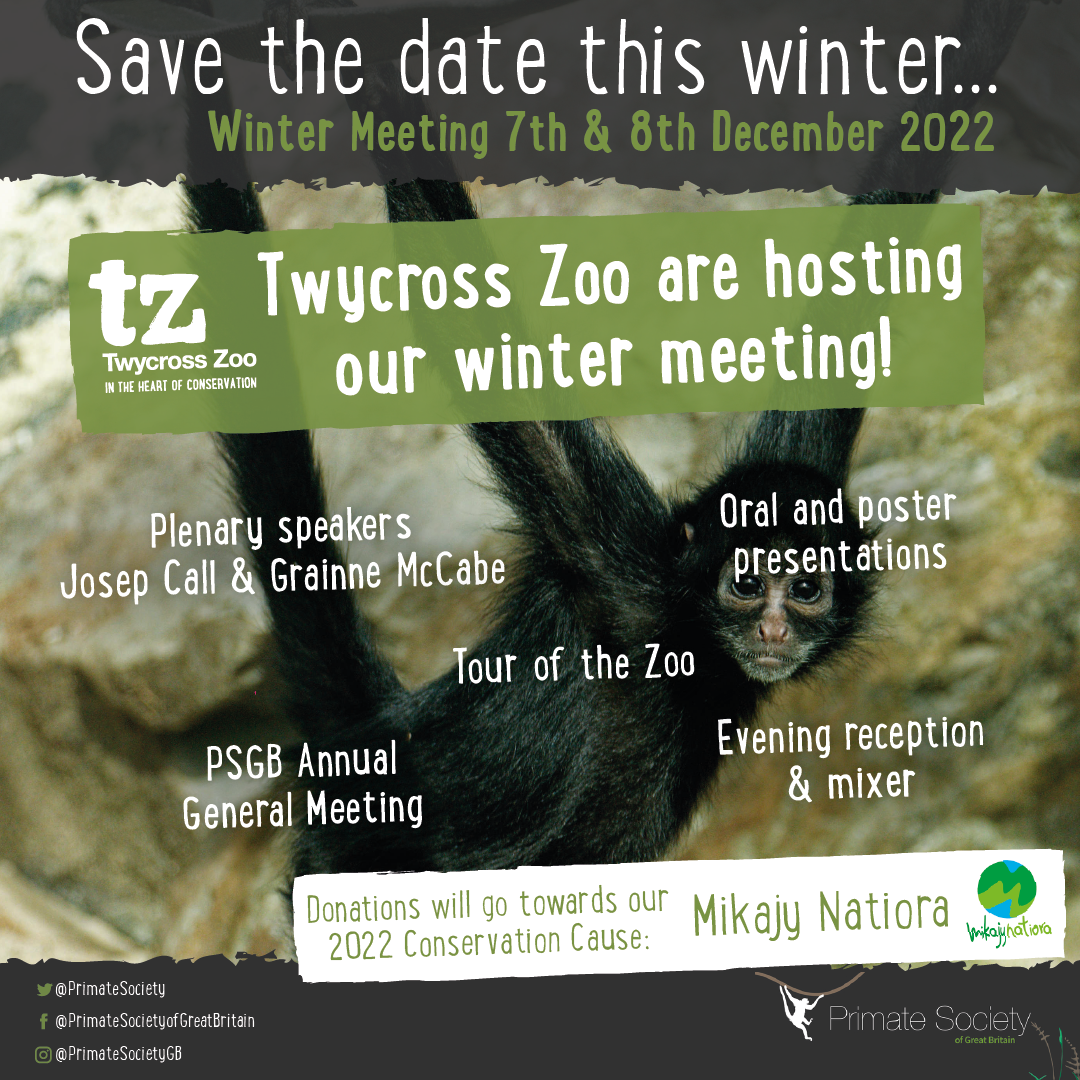 Winter Meeting 7th & 8th December. Twycross Zoo
Tickets now on sale! Limited capacity of 90. Click HERE.
We are pleased to offer a small bursary to cover at least some of these costs for student members attending in person. Our funds are limited, of course, so we are not able to cover all expenses. In addition, as we don't know how many students will attend the meeting, we cannot be specific in how much we can cover. What I can say for now is that this will be a minimum of £50 per student, and we will increase that total if we can, depending on total numbers attending and what our budget can cope with. We will work out how best to make payments soon – a bank transfer shortly after the meeting is the most likely route
FULL PROGRAMME NOW AVAILABLE HERE
Plenary 1-
Josep Call: From Chrysippus's dog to modern primate studies of inferential reasoning
Plenary 2-
Grainne McCabe: Conserving the lesser-known primates: conservation action planning to save Cercocebus and Mandrillus monkeys
Timings
Day One 10am-17.00. 17.00 Drinks Reception/Poster Presentation. 18.30-20.30 Evening Dinner
Day Two 9am-14.00. Zoo Visit afterwards optional
Meeting Information:
What's included in the registration fee?
* goody bag
* tea & coffee
* buffet lunch on Day 1
* Drinks reception on Day 1
* Dinner Day 1
* Free access to the zoo
* Guided tour of the primate collection on the 2nd day of the conference.
Venue:
Twycross Zoo is set in more than 80 acres, we have around 400 animals of almost 80 species to see, including many endangered animals and also native species in the Zoo's Nature Reserve.
The Zoo was founded in 1963 by pet shop owners Molly Badham and Nathalie Evans, after the pair's increasing zoological collection outgrew their three-quarter-acre site in Hints, Staffordshire.
Twycross Zoo is now renowned as a World Primate Centre and has a wide variety of monkeys and apes including the UK's only group of bonobos.
We have breeding groups of many endangered primate species so we often have babies and toddlers playing around in our great ape groups, and in many of our monkey groups.
We also hold a range of other species including giraffes, snow leopards, penguins, meerkats, tapirs, snakes, flamingos and the world's rarest big cat, the Amur leopard, plus more.
Accommodation:
Appleby Inn Hotel, Appleby Parva, Swadlincote, DE12 7AP. Tel.: 01530 270463. Email: [email protected] room B&B: £65.Double room B&B: £75.
Millers Hotel, Twycross Road, Sibson, CV13 6LB. Tel.: 01827 880223.
Room only: £65.
B&B: £72.99. Please use the reference 'Twycross Zoo' to get the discounted rate. Discount can only be applied via phone booking.
Getting There:
We will be working on a car sharing app so we can try and get as many people there without taxis.
Twycross Zoo is located on the A444, which can be accessed via the A5 and the M42 junction 11.
Follow the brown attraction signs.
For Satellite navigation use post code : CV9 3PX
Free parking is available on site, and your vehicle is accessible at all times.
There is no public transport to the zoo but there are several taxi companies in the nearby town of Atherstone including:
Atherstone Taxis: 01827 712427/01827 712428, [email protected]
https://taxiatherstone.co.uk/
Triple A Taxis: 01827 713637,[email protected]
http://tripleataxis.co.uk/book-a-taxi/
Have you thought about organising a PSGB meeting?
Please get in contact if you or your organisation would like to host the next PSGB meeting!
Organising a meeting will not only help PSGB, but will also provide you with opportunities to create a partially themed meeting that may have a particular bearing on your own work, or to invite speakers who have inspired your own research. It is also fun! You do not need to have a PhD; postgraduate students are just as welcome. Showing you have organised a scientific meeting will looks great on your CV.
We have guidelines that can help you plan and structure your meeting and a team of experienced people who can provide you with advice.
If you would like organise a future meeting (summer or winter), please contact our Meetings Officer, Andrea Dempsey ([email protected]) to talk about what is involved.